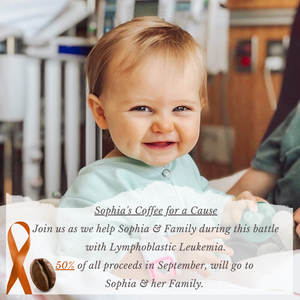 Sophia's Coffee for a Cause
UPDATE 10/6/2020:  We are happy to announce that The Grimm family recently received some amazing news that Sophia is now Leukemia FREE!  We are so happy to hear this news.  In the month of September, you helped us raise $108 for Sophia and her family!  All of the funds will go directly to the family.
Last week, Katie & Shane Grimm received the news that no parent wants to hear. After being taken to the doctor for flu like symptoms, their sweet 11 month old Sophia was diagnosed Acute Lymphoblastic Leukemia.
The Grimm family is currently from the Rogue Valley, but for the next 8 months will be residing in Portland at Randall's Children's Hospital for the first part of Sophia's treatment. Her treatment over the next six weeks will be intense treatment to rid her body of the leukemia. Then the remainder of the 2 years of treatment will be for maintenance.
Katie is a former elementary school teacher who also is a fitness coach. Two weeks before Sophia's diagnosis, Katie made the difficult decision to not return to her teaching job in order to stay home with her sweet girl and be able to pursue her business. The day of Sophia's diagnosis was the day Katie would have returned back to work. Katie is so full of faith and it's incredibly encouraging to see her heart as she and her husband navigate this difficult journey.
Please join us in praying for this family, and supporting as you are able.  Throughout the month of September, 50% of all proceeds (coffee) that you purchase, will go directly to the Grimm family, to help them with medical bills, food, living situation, and many other areas of need.
Below you can purchase for Sophia's Coffee for a Cause.  For the month of September, 50% of all proceeds from coffee purchases will go directly to the Grimm Family.
---