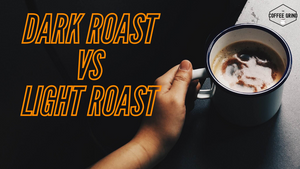 What is the difference between light and dark roast coffee?
The age old question, what is the difference between light and dark roast coffee?  If you enjoy coffee, you have most likely tried a few different coffee roasts that provided your pallet with with considerably different flavor/taste.
The flavor of the coffee is usually brought on by the roast style, whether it be a light. medium or dark roast.
Light roast is exactly what it sounds like... a lighter roast time.  Roasting of the coffee beans is basically forcing the water out of the bean by way of evaporation.  Light roast coffee contains more fluid, which makes it more dense than a dark roast.  Due to the light roast being more dense, it gives it more brightness and a higher caffeine content.

Dark roast is the complete opposite, and is roasted longer, which means it's less dense and carries lest moisture.  Many people get the idea that dark roast has a higher caffeine content, but that is not actually true, it typically just has a more bold flavor.
If you would like to take a look at our selection of coffee, visit our coffee page and try out the different roasts.
---