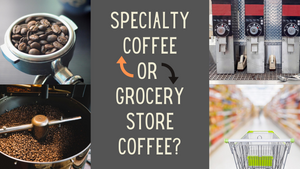 Why should you buy specialty coffee?
Specialty coffee are the highest grade of coffee beans and roasted in small batches by craftsman, rather than in a factory of workers.  When it comes to specialty coffee, it's not uncommon to get some delicious hints of chocolate, nuts, floral or citrus.
When you find a really good coffee that is roasted to perfection, the flavor alone can cut back your addition of sugar and creamer, because the coffee already has some delicious flavor that is nice and smooth.
Here are the levels of coffee, ranging from the cheapest grocery store coffee that you can purchase, all the way up to specialty coffee, similar to what The Coffee Grind provides.
The specialty coffee movement has left behind these old practices in the pursuit of something better. And we've found it. This movement from old to new is often communicated in "waves of coffee". Let me break it down for you.
Grocery Store Coffee — Lower grade commodity coffee, sourced without traceability, roasted in a factory for as cheap as possible, and sold stale. Examples: cans of Folger's, Seattle's Best,  and Maxwell House.
Average Coffee — Stronger emphasis on the coffee quality, but mainly for creative coffee drinks, such as flavored coffee and frappes. The coffee tastes better because it's a higher grade than the grocery store coffee, but the roasting is still very dark, resulting in bitter  flavors. Think Starbuck's, Peet's, and your typical local 'mom and pop'.
Specialty Coffee

 — Very strong emphasis on specialty-grade only coffee. Roasting is completed by coffee experts to bring out the most flavor possible, usually with a light or medium roast. Single Origin transparency is valued, and coffee lovers are more connected to the farms and regions and origin countries in every cup. 
Specialty Coffee takes into account every aspect, such as the supply chain, roasting, brewing, and service has been evaluated and has a focus on quality and transparency.
Specialty Coffee is the future of coffee, and although it does cost more than your typical grocery store coffee, it's worth trying new smaller companies that offer excellent options that are packed with great flavor and a nice strong aroma.
---